I could only think of one word to sum up this week and it's frazzled, as it's the last full week before the new school year starts I've been trying to cram in as much fun as I can with lots of visits to the park and activities at home. We have had such a busy Summer which has been great but I'm certainly ready for a bit of a rest.
I tend to go through phases of not being able to get to sleep at night and unfortunately I'm suffering a bout of that now, coupled with the tiredness and fatigue that comes with being diabetic and running around after two little live wires finds me absolutely shattered. Thankfully FrugalMrW is off work for nine whole days after today which takes some of the pressure off me and Daisy will be at school all day so that just leaves me with Jake who should hopefully be a little less boisterous without his partner in crime.
We have a jam packed September with almost every weekend taken up with a celebration or event but there should be enough time in between to get some rest and recharge my batteries, well that's the plan failing that there is always coffee !
What do you do when you are feeling frazzled ? if you have any tips for me leave me a comment I love hearing from you.
I'm linking up with Jocelyn from The Reading Residence for Word of the Week.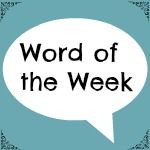 Angela xx