This week has been all about finding a new routine for Jake and I now that Daisy is at school full time. It's been the first  proper week of just us two, FrugalMrW was off work last week and Daisy didn't start to school until Wednesday so there wasn't much chance to establish a new one.
I am one of those people who thrive on routine, I'm not inflexible but I do like to plan ahead as I find this helps me and the children seem to respond better as well.
I'm happy so far with how our new routine is going, it's lovely that I'm getting to spend some quality time one to one with Jake I'm seeing a different side to his personality and of course it's much easier entertaining one child than two. Jake still has an afternoon nap so I've been taking advantage of the time and getting some extra work done (drinking coffee and catching up on soaps might have slipped in there too).
I've also been organising a new routine for blogging, I've been taking part in a productivity challenge that Aby from You Baby Me Mummy has been running it's been so helpful and motivational and I've got lots of new ideas and plans for the blog.
I'm linking up with Jocelyn from The Reading Residence for Word of the Week.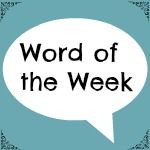 Do you work better with a routine ? leave me a comment below I love hearing from you.
Angela xx