I love being nosey and seeing what bargains and freebies other people have managed to snag so I thought I would share a freebies, bargains and charity shop haul with you.
FrugalMrW had sometime off from work recently and I took the opportunity to go for a much needed eye test and take advantage of a few child free hours to have a mooch around the bargain and charity shops in town, I also took the opportunity to pick up some freebies using my O2 priority app.
Freebies 
FrugalMrW and I both have an O2 priority app so we took advantage and doubles up on some of the freebies that were available, we had a code for a Graze snack box from Boots but both stores we tried had sold out.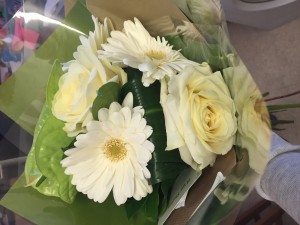 FrugalMrW used the profit he's earned from matched betting and bought us a second hand car, it's been almost a year since we had to scrap our old one and it's so wonderful to have one again, the car sales man gave me this beautiful little bouquet so I'm counting it as a freebie.
Bargains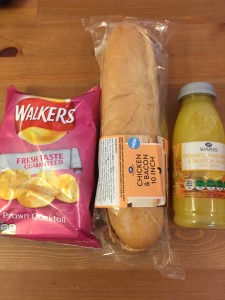 Lunch cost us just £1 from Boots using the O2 priority app on Monday, there are a few places that you can redeem this offer at every week, it's a great saving.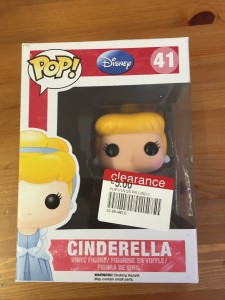 I'm so glad I checked the reduced to clear shelf at Boots, I've just started collecting Pop's and this was an absolute bargain at £5 !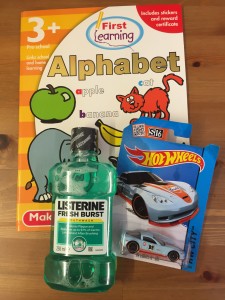 I was quite well behaved at Poundland and only spent £3, it's my favourite of all the bargain shops, I love the amount of branded good quality products you can buy for just £1.
Charity Shop
I'm a little rusty when it comes to charity shops, I visited about six but could only find a couple of things this time.
The dinosaur t-shirt is originally from Next and is in fantastic condition, I paid just 49p.
Daisy loves Topsy & Tim and all five books were just 20p each and in immaculate condition, she was delighted when I gave them to her.
I'm hoping to visit charity shops a bit more often this year I forgot how much fun it is having a good old rummage around for a bargain.
Have you found any good bargains lately ? leave me a comment below I love hearing from you.
Angela xx