I've blogged a few times about all the wonderful things we've had from the likes of Freecycle, Freegle and the local free Facebook pages but I wanted to take those posts one step further and share with you everything that comes into the Webster house each month for free and how it all helps towards our debt free and frugal living goals.
I already have my 'Webster's week in wins' posts to share with you any prizes and consumer freebies that we have been lucky enough to receive but I wanted somewhere I could share different types of 'freebies' with you, to perhaps inspire you and of course to remind myself how thankful we are for the generosity of others.
I hope you will enjoy reading these posts as much as I enjoy writing them.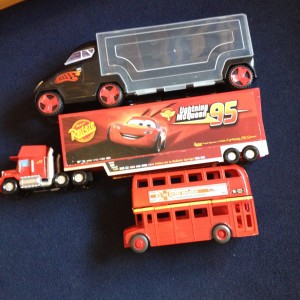 Can you believe that somebody was going to throw these in the bin ! Chris rescued them on his travels, the large truck and the bus are from Disney's Cars film and are special Disney store editions, they are in brilliant condition as is the Hot Wheels car truck, Daisy and Jake love playing with them.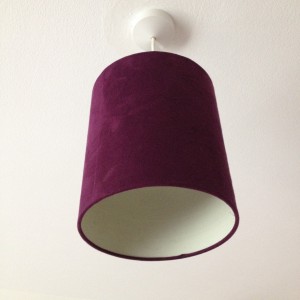 I got two of these light shades from Freecycle, shades have been on my 'Free Wishlist' for ages and when I saw that they were in the perfect colour for our bedrooms I asked nicely and was lucky enough to get them, they are both like new, how fantastic is that !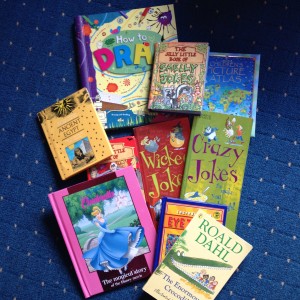 Children's books have got to be one of my favourite things to get for free, I got a bag of lovely books from Freecycle, sorted out the ones that were useful to us and will donate the rest to charity.
We were also given a bag of clothes for Daisy and Jake from a friend, her children had outgrown them and she thought of us, she has given us some lovely things in the past and I'm so grateful to her, I always pass on our outgrown clothes, toys and books on and  I like to think of it as paying it forward.
A naughty but oh so very nice freebie came from my brother and his wife who were visiting last week, they brought us a bag of doughnuts, some ginger bread men and some Belgian buns, how lovely of them !
My daughter brought me some jars of cooking sauces she wasn't going to use as she's following a diet at the moment, these will be great to have on hand for quick meals.
All of these lovely gifted items are so appreciated and they mean that the money that we would have budgeted for these things can be diverted to paying down our debts.
Of course we always try to give back by donating our unwanted items in the same way.
As the great saying goes 'One man's trash is another man's treasure' .
Are you a fan of getting thing's for free ? what's the best free thing you have ever found on Freecycle ? leave me a comment below I love hearing from you.
Also if you have enjoyed reading this post you might like these ones too
Falling out then falling back in love with Freecycle
How to fill your house for free