Today I'm writing about something I struggle with when it comes to gift giving and trying to live a frugal money-saving lifestyle. You might have the same problem as me.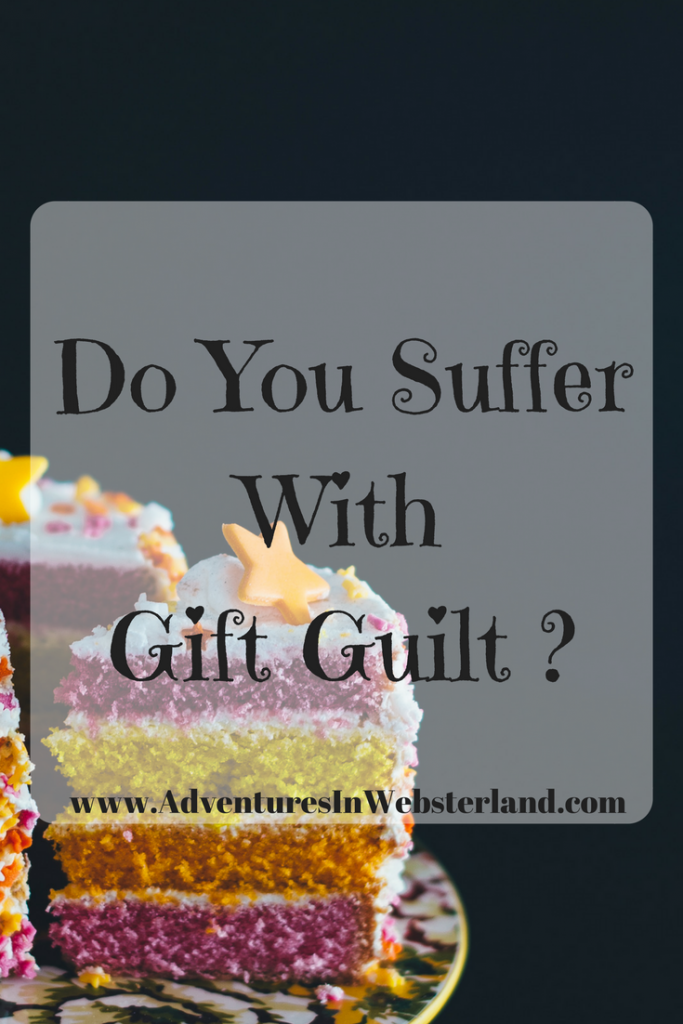 Even before embarking on a frugal lifestyle I had an enormous sense of guilt surrounding the gifts I gave people for their birthday and for Christmas. I never felt like I had bought them enough no matter how much I spent.
I never stuck within a budget. I think that in the past I have misinterpreted people's awkwardness when giving them a gift as a sign that what I had given them wasn't good enough. I now realise that some people just feel embarrassed by being given a gift and it was probably nothing to do with what I bought them at all.
Fast forward a few years and throw into the mix that I now HAVE to stick to a budget and the fact that I've had to stop buying gifts for some people due to cutting back and my feelings of guilt are at an all time high.
I've read some brilliant advice  about being frugal in the ways of gift giving but it still doesn't stop that awful guilt from surfacing when it's time to buy. Could I really give someone a cake I made ? or stick within a very low-budget and buy them something useful instead or extravagant ? Would I feel bad about the children having a small pile of gifts on Christmas morning as opposed to a huge one ? these are all the questions I have been struggling to answer lately.
I wrote a post about paying for Christmas by using extra money I have made from completing surveys, focus groups and selling our unwanted items. I'm very happy that I have done this. For once I feel good about what I have bought the children. I've not gone overboard and each gift was carefully thought about. I have a few people left to buy for and this is what I'm struggling with.
The simple truth is that we are limited in our budget. Any gift I can give someone does not and will not ever reflect how I feel about them. I can only truly show that in my physical gestures not with anything material and I need to keep reminding myself of this.
The situation has come to the point where something has to change, I need to find a new perspective about it all.
Do you have any ideas on how I can better deal with the stress of giving gifts ? have you been in the same situation ? what do you think ? please leave me a comment below I love hearing from you.