*Tengi is no longer trading*
A few weeks ago I started using Tengi , it's a chat app with a huge difference, it uses at least 50% of it's advertising revenue to offer cash prize draws every week, you get tickets for the prize draw in exchange for chatting.
Every Friday at 7PM someone wins the £1000 cash top prize, 4 people win £25 cash and 600 winners will get a £5 Amazon gift certificate, I have won the Amazon prize twice !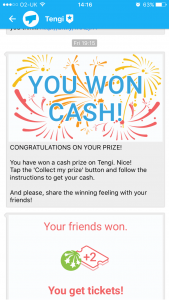 You enter each weeks draw by collecting tickets, here's how you get them:
1 Ticket for each day you use Tengi
4 Tickets for each hour you spend chatting
1 Ticket per week for keeping the app installed
10 Tickets for each of your phone contacts who join Tengi
1 Ticket every time a friend wins in the weekly draw
The app is totally free to use and Tengi don't sell your data or analyse your messages for targeted advertising.
I use it everyday to keep in touch with my family and I've had no problems using the app, it combines two of my favourite things, chatting and entering competitions, how awesome is that.
Do you use Tengi ? have you won a prize with them ? leave me a comment below I love to hear from you.
Angela xx