It's been a little bit of a tough week to say the least, the children have been under the weather with coughs and colds which has led to cabin fever setting in which in turn has led into squabbles about anything and everything.
The children have been arguing over toys, television programmes, teeth brushing, yogurt flavours,books and who's turn it is to have raspberries blown on their tummies and although it's quite comical at times it's also frustrating and draining.
I'm sure it's just that point in the summer holidays where everyone is getting a little fed up and starting to crave a term time routine. I do my best to keep them occupied but there are only so many times you can visit the library, the park and do crafts before it becomes less exciting and when you have a 4 year old and a 2 year old the challenge is even greater.
I wondered if the solution was that we need to buy doubles of everything but I'm sure the children would just find something else to squabble about so I will stand back and keep acting as referee and hope that I survive with some of my sanity intact.
Do your children squabble ? how do you deal with it ? leave me a comment I love to hear from you.
I'm linking up with Jocelyn from The Reading Residence for Word of the Week.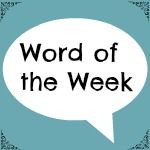 Angela xx