The most valuable thing I have learned this year so far is about food prepping and freezing vegetables, doing this has not only saved me time but money too and it's cut down food waste and washing up after meals, what a bonus !
I put aside a full afternoon every two weeks to prepare, cook and freeze vegetables into portion sizes required for each meal, a little research will tell you how to freeze just about anything, I wouldn't have believed it but since I've started doing it I'm a total convert.
Here's a quick guide to how I've been prepping and freezing.
Carrots & Broccoli-par boil for 8 minutes-soak in cold water-dry off-portion-freeze.
Mash Potato-boil-mash-add butter-cool-portion-freeze.
Sweet Potato-boil-mash-cool-portion-freeze.
Potato Wedges-cut wedges-cover in oil-season as required-cook as normal-cool-portion-freeze.
I always have a bag of frozen sweetcorn and peas on hand as well for a little variation, you can adapt these methods to suit your families needs and taste.
I prefer to defrost everything apart from the carrots and broccoli but again that's personal choice, I use ziplock bags and plastic tubs to store the portions in, the tubs are great as they can be washed and reused.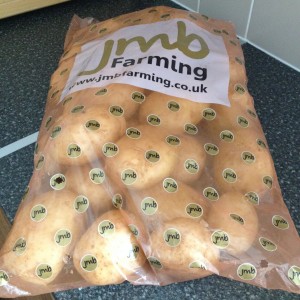 I have a butchers/green grocers virtually on my door step and I bought these potatoes for the absolute bargain price of £3.99 for 10kg, they are grown locally and are so much better quality and taste than the supermarkets.
Do you do any food prepping ? I would love to hear your ideas, leave me a comment below.