I thought I would share with a few pre-school fun ideas we have been using lately, everything featured cost less than £5 and can be adapted and re-used.
Colander & Pipe Cleaners
This is simply genius and provides hours of fun, poking the pipe cleaners through the colander holes is a great way to develop fine motor skills as well as encouraging imagination, the pipe cleaners were £1 from Home Bargains and the Colander was a £1 from PoundLand.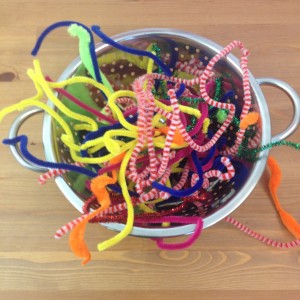 Learn Your Numbers
This activity is multi-functional, the magnetic board can be used to teach number recognition as well as simple equations and the board is wipe clean so preschoolers can practice writing their numbers too. The magnetic board (with pen) cost £1 at Home Bargains and the magnetic numbers were £1 at PoundLand.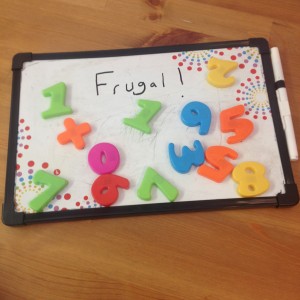 Project Peg
These pegs cost a £1 at PoundLand and we use them in a couple of different ways, you can tie some string across two chairs and let your preschooler hang dish cloths, socks or hankies on with the pegs, Daisy loves doing  this or you can put some water and food colouring in an ice cube tray stick the peg in the top, freeze and make your own ice painting sticks.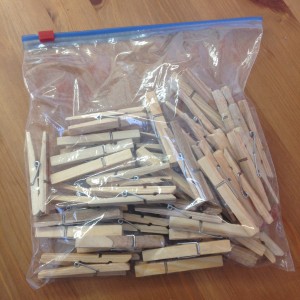 Do you have any other activity ideas for preschoolers for around a £1 I would to hear about them and try them out, leave me a comment below I love hearing from you.
Angela xx