I love a good old celebration and Halloween is no exception, I've mentioned before that I always celebrate little events and occasions as they make life a little more fun and of course it gives me a great opportunity to test out my budgeting skills.
The bargain shops like Poundland, B&M, Poundworld and Home Bargains are chock a block with spooky decorations, scary costumes and delicious sweet treats, I always pick up a few things as soon as the stock hits the shelves as they have a tendency to sell out fast.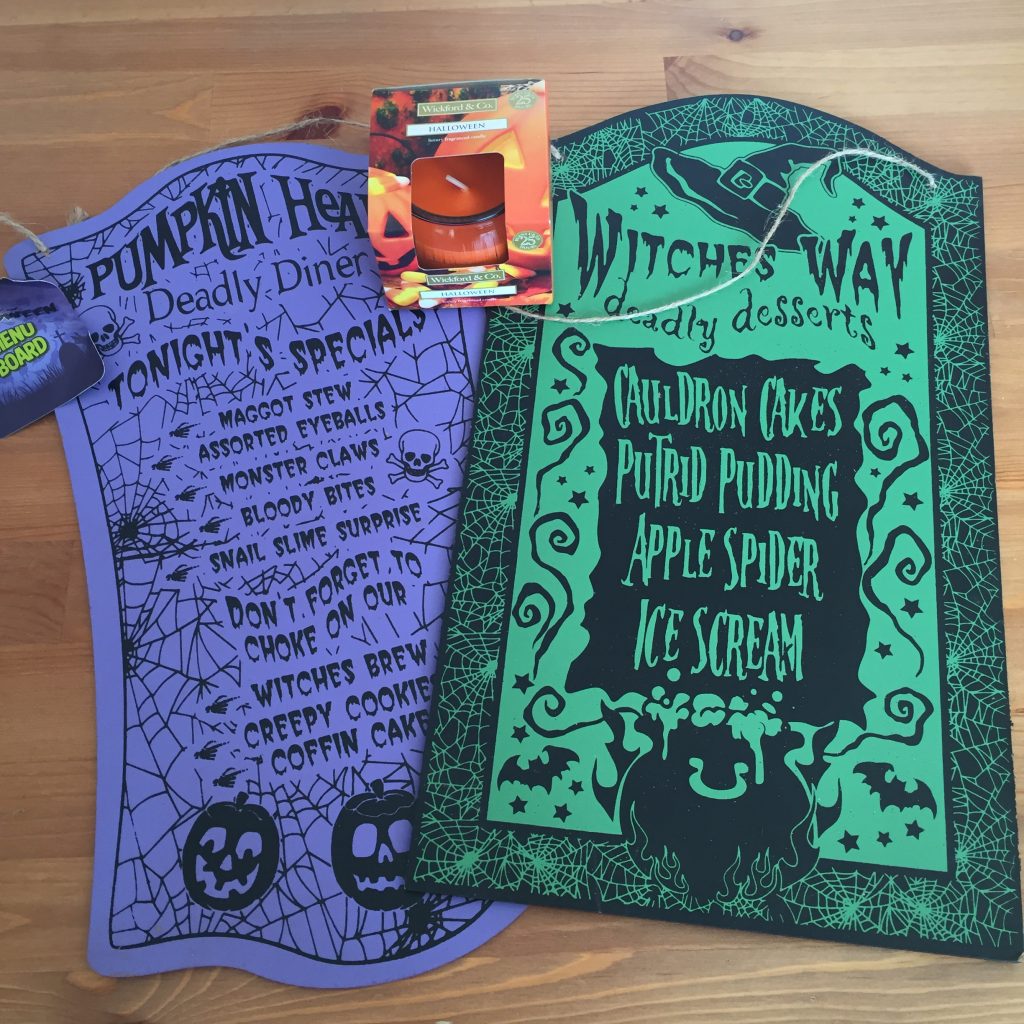 These frightful wooden menu boards were only 79p each from Home Bargains, I'm going to display them in the kitchen but I'm not sure I will have many requests at tea time. I also picked up this sweet smelling Halloween candle for 69p again from Home Bargains.
This year we can get away with not buying a new costume for Daisy, she want's to dress up as Elsa from Frozen so we are using the costume she already has in her dressing up box, I don't think Jake would wear a costume for any length of time so I will either pick up a second hand one or use one of the cute spooky tops that came in a bundle of clothes we were given. If you are a creative type you could fashion an awesome costume yourself there are a ton of fantastic ideas on Pinterest.
Speaking of Pinterest I've been busy creating a board called Halloween On A Budget that I've been pinning lots of ideas to.
As the October half term falls in with Halloween we will be doing lots of Halloween themed crafts, a great way to find ideas to keep the kiddo's busy is to check out some blogs you can find a ton of great crafts, recipes, activities and facts, here are a few to get you started.
Jessica from Beauties And The Bibs has this great advice " When ever I used to plan Halloween at work . Poundland would be my go to place they have everything you need . Also I would search Pinterest for activities like unlucky dip . Where the children have to touch horrid things with a blind fold on"
Carly from Mummy and the Chunks made some Halloween decorations using Hama Beads.
Kirsty from My Two Mums shows you how to make spooky finger puppets on a budget.
Sonia from This Mummy Loves shows you how to make budget friendly hand print spiders.
Hannah from Cupcake Mumma has some fabulous budget friendly ideas to celebrate Halloween.
Jocelyn from The Reading Residence has some ideas for funny and unusual kids costumes for Halloween.
I hope this post has given you lots of ideas for celebrating Halloween on a budget, if you have any more budget friendly ideas leave me a comment i love hearing from you.
Happy Halloween
Angela xx